DESCRIPTION
---
Record and analyze your blood sugar test results. Keep your vital glucose test results in a neat and perfectly ordered by date and time software diary and logbook using Glucose Journal and Database. Create and print custom reports and pie or bar charts to help you and your doctor analyze and manage your blood sugar. Easy to use and powerful.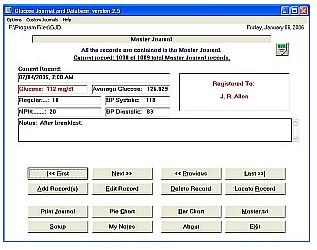 With accurate, organized, legible, and easily analyzed reports and charts generated from Glucose Journal and Database, you and your doctor's job of interpreting your blood glucose control is easier. The better your doctor knows how well your blood sugar is being controlled, the better he or she is able to make adjustments to your medicine, diet, and exercise plans...so you stay healthy and feel good. Glucose Journal and Database is an easy to use database program for people who monitor their blood sugar. You don't have to know anything about databases, Glucose Journal and Database does all the work for you.
The more you know how food, exercise, medicine, and other factors effect your blood sugar, the better you can manage your diabetes. Glucose Journal and Database helps you record your blood glucose readings, spot trends, and analyze your blood glucose test results. Knowledge is power...Glucose Journal and Database will give you the information you and your doctor need to successfully manage your diabetes.

Runs under the Windows 95, Windows 98, Windows 98SE, Windows Me, and Windows XP operating systems. A printer is recommended.

The price is $23.95 (USD) and ordering is fast, easy, and secure.