DESCRIPTION
---
Create Software Boxes and EBook Covers for your Web Site
No matter what's in the box, shoppers will not value it if the box doesn't have a captivating cover. A great cover conveys a compelling message that the product under the cover is worth their attention... and their money.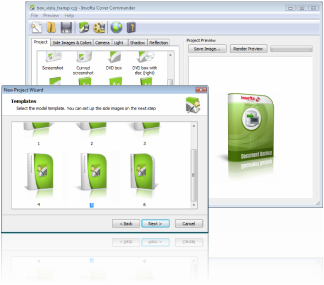 Professional Looking 3D Box Shots in No Time
No doubt you can create a great looking box shot in Adobe Photoshop ($649). The question is: how much time are you willing to invest in learning how to achieve this seemingly simple task?

Cover Commander ($69) offers more precise controls over the process of creating a perfect box shot, while removing the steep learning curve associated with any general use graphics editor.
Cover Gallery
| | |
| --- | --- |
| CD box (soft shadow, reflection) | Vista box (hard shadow, reflection) |
| DVD box (sharp shadow, reflection) | Book (sharp shadow, reflection) |
| Manual (soft shadow, reflection) | Spiral book (soft shadow, reflection) |
| Curved screenshot (soft shadow, reflection) | Card (reflection) |
| Box (transparent background for complex design, soft shadow, reflection) | Box with custom CD (dark background, soft shadow, reflection) |
Testimonials
I downloaded and used about 12 different cover creator software packagesbefore I found Insofta Cover Commander. The ease of use, the quality 3Dengine, virtually instant rendering, almost unlimited options, andprofessional interface, make the Insofta product the best by far. And Ithink these guys have only just begun - further enhancements down the trackwill make this an UNBEATABLE product for the amateur and professional alike.
Rob, Sydney Australia.
I specifically chose Cover Commander as my cover creator software of choice - after reading a highly complimentary review on a SitePoint newsletter. Most of the competition "look the same", but Cover Commander has a crispness to it and a very modern feel to the "boxes and books". Be very careful as some of the other products on the market have a finished image quality when exported that is less than professional looking.

Cover Commander is very easy to use - not like much of the competition whichare based on Photoshop "actions" - and the amazing number of different"projects" allows books, reports, DVDs, software boxes ... you name it. One of my clients remarked how professional his new book looked on the web! (Little did he know it took me about 2 minutes flat to create it!) Most importantly to me, on the one occasion where I had an issue with the product, the service turn-around has to be experienced to be believed - it'since to discover in an internet full of hype-merchants that there are people who do what they say - and products that do exactly what they claim. Many thanks!
Robert Scanlon, www.instant-self-esteem.com